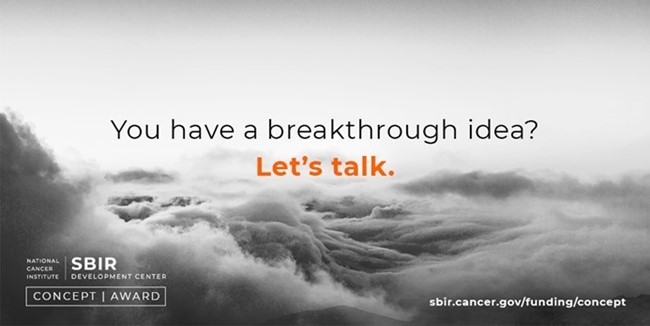 The NCI SBIR Development Center is excited to announce the application period opening for the SBIR Innovative Concept Award!
This funding mechanism was developed for small businesses that are developing highly innovative and out-of-the-box technologies with the potential to create new scientific paradigms through novel and enhanced approaches to considerably improve cancer research, prevention, detection and care in pediatric and/or rare cancers (See here for the definition of rare cancer).  Applications focusing on rare cancers with a 5-year survival rate of less than 50% are especially encouraged for this solicitation.
Join us on March 31, 2022 for an informational webinar for this funding opportunity to learn more about how the SBIR Concept Award can make a difference during your commercialization journey

Interested small business offerors are requested to indicate their intent to propose by submitting a White Paper by May 2, 2022. This will allow the NCI to provide feedback on whether or not the proposed idea falls within the scope of what this solicitation is seeking. For more information on the white paper, please refer to section 7.1 of the solicitation.
Proposal submission deadline is August 22, 2022, 5 p.m. ET. For more information about this program, please visit the program solicitation or contact Cherie Wells (ncioasbir@mail.nih.gov).
For more information about the NCI SBIR & STTR Programs, please visit the website.

The SBIR & STTR Programs are NCI's engine of innovation for developing and commercializing novel technologies and products to prevent, diagnose, and treat cancer. The SBIR & STTR Programs are government set-aside programs for domestic small businesses to engage in research and development that has the potential for commercialization and public benefit.

Sign up to receive updates about SBIR & STTR funding opportunities at sbir.cancer.gov.

Chat with us: LiveHelp | Call us: 1-800-4-CANCER (1-800-422-6237)