Posted 1/5/21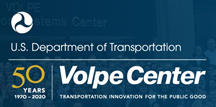 The U.S. DOT Small Business Innovation Research (SBIR) Program invites small businesses to review its pre-solicitation notice for opportunities within its Fiscal Year 2021 (FY21) SBIR Phase I solicitation.
THIS IS A PRE-SOLICITATION NOTICE; NO SUBMISSIONS ARE ACCEPTED AT THIS TIME (as of 1/5/21).
The pre-solicitation period for U.S. DOT's FY21 solicitation is from January 5, 2021 through February 2, 2021 at 5:00 PM Eastern Time (ET). More information about the pre-solicitation can be found HERE.
What You Should Know:

Technical questions regarding the research topics will be accepted only during the pre-solicitation period (January 5, 2021 through February 2, 2021). Technical questions will not be accepted after 5:00 pm ET on February 2, 2021. Only questions received by posting to the forum HERE prior to the deadline will be answered by the U.S. DOT research topic authors. Answers to all questions from the pre-solicitation period will remain available on the forum when the U.S. DOT FY21 SBIR Phase I solicitation is released on or about February 4, 2021.
An informational webinar about the solicitation is tentatively scheduled for February 11, 2021, at 1:00 pm ET

. More information on how to register for this webinar will be available on the U.S. DOT SBIR website and in the solicitation when the solicitation is issued.
Proposed FY21 Research Topics
Pre-Solicitation Notice Document

Full descriptions of each proposed research topic are included in Appendix A of the pre-solicitation notice.
HIGHWAY
Device for Assessing Environmental Impact of Post-Consumer Waste Plastic in Highway and Airfield Materials and Pavements
In-situ Determination of Pore Solution Resistivity
Accelerating Performance Testing Using the Asphalt Mixture Performance Tester (AMPT) Equipment
Reference Hardware for Infrastructure GPS Abnormality Detector for Connected and Automated Vehicle Applications
MOTOR CARRIER SAFETY
Automated Vehicles: Deployment of Traffic Warning Devices (Triangles)
Readiness Assessment Technology
RAILROAD
Passenger Train Exterior Side Door Safety
Wheel Measuring Device
TRANSIT
Robots for Unmanned Disinfection and Decontamination of Transit Assets
Using Artificial Intelligence (AI) to Inspect, Repair and Sanitize Transit Vehicles
NATIONAL HIGHWAY TRAFFIC SAFETY
Securing Safe Passage when Crossing a Roadway to Board Buses
21-NH2: Ignition Interlock Device Data-Integrated Mobile Device App
PIPELINE AND HAZARDOUS MATERIALS SAFETY
21-PH1: Lithium Ion Battery Packaging
---
Stay Up-to-Date and Learn More
The U.S. DOT is one of 11 federal agencies that participates in the SBIR program. U.S. DOT's highly competitive SBIR program awards contracts to domestic small businesses to pursue research on and develop innovative solutions to our nation's transportation challenges.
The U.S. DOT SBIR program favors research that has the potential for commercialization through products and applications sold to the private sector transportation industry, state departments of transportation, U.S. DOT, or other federal agencies.
Small businesses that participate in U.S. DOT's SBIR program have developed numerous new and innovative technologies that have benefited the department and the public, while providing a basis for growth for small businesses. Over the past five years, the U.S. DOT SBIR program has invested $50 million in qualified small businesses.
For more information, visit the DOT SBIR PAGE HERE