The following message was recently sent, announcing the SBA's new SBIR Website.  There is a greater level of utility to the site with links to new and informative tools.  Take a look and add it to your favorites.
"Dear Technologists, Innovators, Entrepreneurs, & SBIR/STTR Enthusiasts,
Welcome to the new SBA SBIR Website…9 months of clever UI/UX designing, massive canvassing of input across the United States, and creation as well as deployment of smarter algorithms and data mining.
We heard you and we intend to keep good things coming. Be on the lookout for additional features and resources over the coming months ahead. In the meantime take a perusal and perhaps there might be a funding opportunity up your alley of interest."
"12 Agencies…1 Vision: Seed The Future"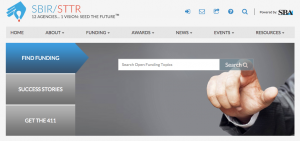 @SBAGov #SBIR #SeedTheFuture