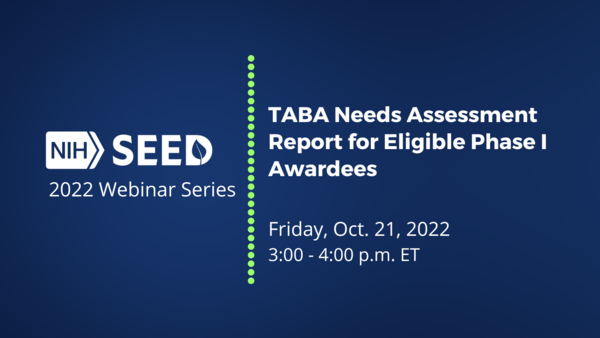 Did you know NIH Phase I #SBIR and #STTR awardees may be eligible for a free TABA Needs Assessment Report? The report, provided by RTI Innovation Advisors, provides a third-party, unbiased assessment of your project's progress in four technical and business areas that are critical to success in the competitive healthcare marketplace:
Market Needs/Competitive Advantage
Intellectual Property/Barriers to Entry
Business Model Profitability
Manufacturing, Regulatory, and/or Clinical Plan
Your company is eligible to participate if your Phase I NIH SBIR or STTR (grant, contract, or Fast-Track):
is active or was active within the past two years AND
was not awarded TABA funding within the Phase I award budget AND
has not already received a TABA Needs Assessment Report or NICHE Assessment for the same Phase I project.
Attend this webinar on Friday, October 21, at 3:00 p.m. ET to learn more about the report and how to submit a request to participate. You'll hear from NIH small business experts and representatives from RTI Advisors, and have the opportunity to ask questions.