Posted 5/14/19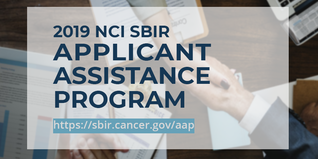 The National Cancer Institute Small Business Innovation Research (NCI SBIR) Development Center is pleased to announce the availability of the 2019 Applicant Assistance Program (AAP). AAP is a FREE program for small businesses that have not previously received an SBIR/STTR award from the National Institutes of Health. The program provides small businesses with services including:
Needs assessment
Small business mentoring
Phase I SBIR/STTR application preparation support
Application review
The pilot AAP is only available for small businesses with cancer-related projects. AAP provides application coaching—participating small businesses will still be responsible for putting together an application and other required documentation. To apply for the program, please visit http://bit.ly/19AAP.
For more information about the NCI SBIR & STTR Programs, please visit the website.
The SBIR & STTR Programs are NCI's engine of innovation for developing and commercializing novel technologies and products to prevent, diagnose, and treat cancer. The SBIR & STTR Programs are government set-aside programs for domestic small businesses to engage in research and development that has the potential for commercialization and public benefit.
Go to https://sbir.cancer.gov./ to receive email updates about SBIR & STTR funding opportunities.