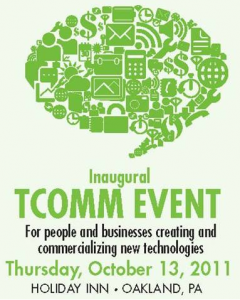 TCOMM (Technology Commercialization) EVENT
"Commercializing New Technologies"
100 Lytton Avenue
Holiday Inn, Pittsburgh @ University Center (Oakland)
Pittsburgh, PA 15213
Register before Oct. 4 and pay only $119
The TCOMM Event is a fast-paced, interactive conference designed for small businesses and innovators that want to commercialize new technologies.

Keynote speaker, Lalit Chordia, Ph.D. is the president and founder of Thar Technologies, Inc. which specializes in commercial applications for high-pressure carbon dioxide process technologies. Listen as he details his path to success – from the creation of a new idea to commercialization to SBA Exporter of the Year.
View a list of the other speakers here!
Additional Opportunity:
How to Win SBIR Awards – October 14
Have a special interest in early-stage R&D funding? Spend the next day with renowned expert John Davis, General Manager of the SBIR Resource Center, in Pittsburgh at Duquesne University learning the secrets to winning SBIR-STTR Awards. The cost of this event is $175.
Register for both event days, October 13 and 14, and pay only $219.
This training is provided as part of a FAST Grant to the IPart from the SBA.