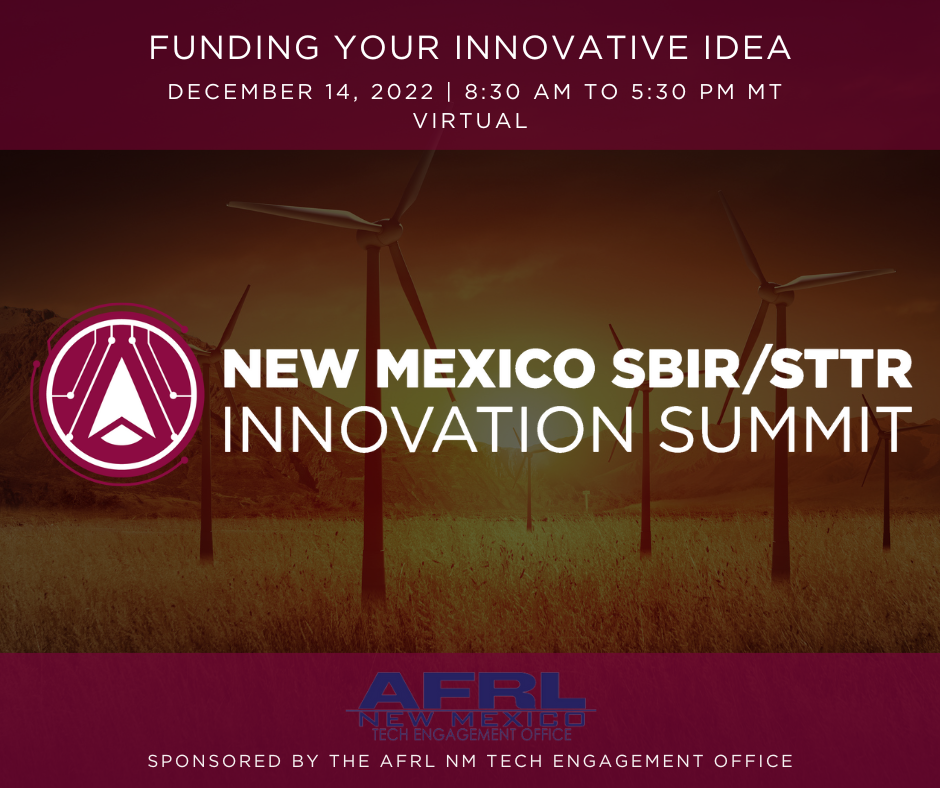 Arrowhead Center's NM FAST program is hosting their annual SBIR/STTR Innovation Summit next week. The Summit will be held on Wednesday, December 14th  and is FREE. Please see below for a short description of the event:
The 2022 New Mexico SBIR/STTR Innovation Summit will be virtual on December 14, 2022. This dynamic event brings together small businesses, federal program managers, defense representatives, experts, and support organizations vested in driving innovation through the SBIR/STTR programs. This year's event will feature panels led by industry experts with tips for success for first-time applicants, innovation as a business practice, and the advantages of teaming and partnering. Federal program managers will offer rapid-fire pitches about some of the biggest differences among the SBIR/STTR agencies and what types of innovations they are funding, and representatives from the Navy, Air Force, and Army SBIR/STTR programs will present upcoming topics and solicitation cycles. Attendees will also have the opportunity to meet one-on-one with program managers from federal agencies, including the Navy, Air Force, USDA, Department of Energy, NSF, and more.
You can also find a Detailed Agenda for the Day HERE
Although based in New Mexico, the Summit will be valuable to businesses nationally, as the event will feature federal-level information.
Sponsored by the AFRL NM Tech Engagement Office

REGISTRATION IS FREE, and can be accessed by clicking below.

Please feel free to download and pass along the Digital Flyer for the Summit.
Also, please feel free to connect with the NM FAST social media channels:
Please reach out to Dana with any questions you might have:
Dana DeRego Catron
Deputy Director, Arrowhead Center
SBIR Program Director | NM FAST
Email: dderego@nmsu.edu