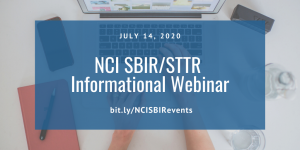 Get Expert Insights on Resources for Biotech Entrepreneurs
Tuesday, July 14, 2020 from 10:00-11:30AM PDT is your chance to learn about the fundamental commercialization resources that the NCI SBIR Development Center offers. Join Program Director Christie Canaria for an SBIR/STTR virtual information session on "Advancing the Commercialization of New Cancer Innovations" during a webinar hosted by BIOCOM.
Topics she will cover include:
Overview of SBIR/STTR eligibility requirements
NIH SBIR/STTR process and new cancer-focused grant funding opportunities from NCI
NCI SBIR/STTR initiatives such as the expanded I-Corps™ at NIH Program
New NCI Investor Initiatives to help NCI SBIR-funded companies to connect with investors, venture capitalists, strategic partners, and business leaders from the biotech and pharmaceutical industries
Practical strategies on how to successfully submit competitive research proposals
For more information about the NCI SBIR & STTR Programs, please visit the website.
The SBIR & STTR Programs are NCI's engine of innovation for developing and commercializing novel technologies and products to prevent, diagnose, and treat cancer. The SBIR & STTR Programs are government set-aside programs for domestic small businesses to engage in research and development that has the potential for commercialization and public benefit.
Sign up to receive updates about SBIR & STTR funding opportunities at sbir.cancer.gov.