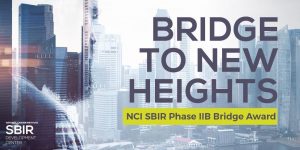 Learn how to get Assistance Bridging the Funding Gap
Did you know that NCI SBIR offers additional support beyond the Phase II funding? The NCI SBIR Phase IIB Bridge Award provides small businesses developing innovative cancer technologies with up to $4 million over 3 years to help cross the funding "valley of death."
You can learn more about this opportunity at next week's informational webinar on the Phase IIB Bridge Award. On Tuesday, July 14, 2020 from 2:00-3:00PM EDT, NCI SBIR/STTR Program Director Jonathan Franca-Koh will cover the essentials of the Phase IIB Bridge Award and conclude with a Q&A period for attendees to ask questions.
The award is open to SBIR and STTR Phase II awardees from federal agencies with projects addressing one of the following areas:
Cancer Therapeutics and Preventive Agents;
Cancer Imaging Technologies, Interventional Devices, and In Vivo Diagnostics;
In Vitro and Ex Vivo Cancer Diagnostics and Prognostics;
Technologies for Cancer Prevention and Control, Supportive Care, and Survivorship; and/or
Tools and Model Systems for Cancer Research
The application deadline for the FY2021 Phase IIB Bridge Award is August 3, 2020, by 5 PM local time.
Please visit NCI SBIR Bridge Award page or the funding opportunity announcement (RFA-CA-20-033) for more information about the award. If you would like to speak to a program director about the solicitation, please contact NCI SBIR Program Director Jonathan Franca-Koh at francakohjc@mail.nih.gov.
For more information about the NCI SBIR & STTR Programs, please visit the website.
The SBIR & STTR Programs are NCI's engine of innovation for developing and commercializing novel technologies and products to prevent, diagnose, and treat cancer. The SBIR & STTR Programs are government set-aside programs for domestic small businesses to engage in research and development that has the potential for commercialization and public benefit.
Sign up to receive updates about SBIR & STTR funding opportunities at sbir.cancer.gov.